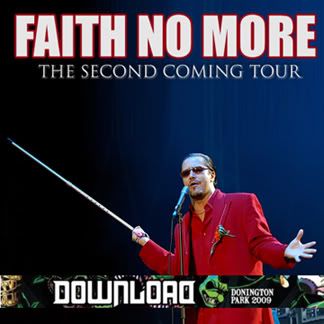 That's right!! In case you haven't heard, after 10 years of non-existence, the almighty FAITH NO MORE is back at it for "The Second Coming" Tour. Classic!!
Thanks to a post on
T.U.B.E.
that I found, we can download and listen to their second show on the tour
HERE
!
AND you can watch video footage of the entire show, song by song, on a YouTube page made just for this show...CRAZY...You can watch all that
HERE
!
For the latest info on this "epic" reunion (sorry, I had to), visit FNM's official website at
FNM.com
.
And now my fingers are crossed that they make a stop in Toronto on this tour!! Pleeeeeeeeeeeeeeeease?!?! :))
Enjoy!
PEACE.1.D.