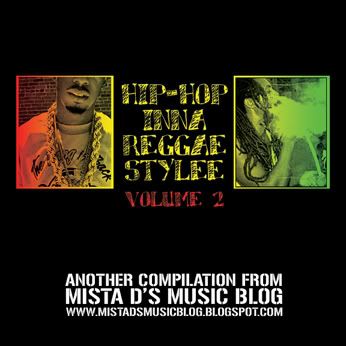 As some of you may already know, I put together my first blog compilation last year entitled "Hip-Hop Inna Reggae Stylee". It was so well received that I decided to put together Volume 2! And here it is! Here's the tracklisting:
01-Dub Selection Intro-SANTOGOLD
02-Still Tippin' It (ft. Slim Thug & Mike Jones)-SANTOGOLD
03-Guns Up (ft. Damian Marley & Stephen Marley)-CHALI 2NA
04-Nice Up The Function (ft. Roots Manuva)-MR. SCRUFF
05-Party Together (ft. KRS-One)-SLY & ROBBIE
06-Gun Fever (Blam Blam)-MARVIN (THE HUMAN)
07-Welcome To The Sound-T.Y.M.E.
08-Thank God For Toronto-MINDBENDER
09-Last Standing Soldier (Bedouin Remix)-KARDINAL OFFISHALL
10-Shimmy Shimmy Ya / A Message To You Rudy-ODB vs THE SPECIALS
11-Fire (ft. Damian Marley)-B-REAL
12-Come On (ft. Chali 2na)-TIPPA IRIE
13-Girls Callin' (ft. Ghostface Killah)-ELEPHANT MAN
14-Passin' Me By (Roots Rockers Reggae Remix)-THE PHARCYDE
15-I Left My Wallet In El Segundo (Vampire Mix)-A TRIBE CALLED QUEST
16-Voice Of A New Generation-DEF JEF
17-Roots, Rap, Reggae (ft. Yellowman)-RUN-D.M.C.
18-Another One To Get Jealous Of-MC SHAN
If you download and enjoy this one, please leave me a comment... It'll inspire me to put together Volume 3. ;)
If you missed Volume 1, you can find it
HERE
.
*(Please note that track#18 is posted separately as a bonus track... I had to get you that MC Shan classic!!)
Enjoy!
DWNLD> V/A - Mista D's Music Blog presents: HIP-HOP INNA REGGAE STYLEE, VOL.2
DWNLD> BONUS TRACK!
PEACE.1.D.