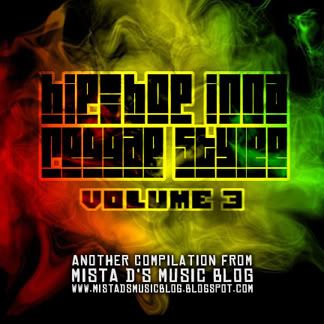 Hey folks! Here is my third mixtape/compilation for you from my HIP-HOP INNA REGGAE STYLEE series. This seems to be a popular one, so I hope you all enjoy it. Lemme know what'cha think! Here's the tracklist for VOL.3:
01-Hurricane Black (ft. Black Thought of The Roots & Common)-MOS DEF
02-Land Of Promise (ft. Dennis Brown)-NAS & DAMIAN MARLEY
03-There Was A Murder-CLIPSE
04-No War (Obama) (ft. Barrington Levy & Kardinal Offishall)-BUSTA RHYMES
05-Night Nurse-U-N-I
06-Get Up In The Morning-CHIDDY BANG
07-Nobody Move! (ft. Yellowman, Skotch Davis, Telli/Ninjasonik)-TROUBLE ANDREW
08-Dubbing It Raw-KING TUBBY VS WU-TANG CLAN
09-Johnny Too Beef-MOS DEF
10-Say Somethin' -NAS & BOB MARLEY
11-Everyday Always-GRAND ANALOG
12-Trapped (ft. Kardinal Offishall)-PROMOE
13-Don't Get So High (Dancehall Mix)-KRS-ONE
14-Freaks (ft. Lil' Vicous)-DOUG E. FRESH
15-In Divine Style-DIVINE STYLER
16-Artical (Original Posse Mix) (ft. Phife from A Tribe Called Quest & Chip-Fu from Fu-Shnickens)-WHITEY DON
Enjoy!
DWNLD> V/A - Mista D's Music Blog presents: HIP-HOP INNA REGGAE STYLEE, VOL.3
And if you missed Volume 1 + 2, here they are:
DWNLD> VOLUME 1
DWNLD> VOLUME 2
PEACE.1.D.